Eaton Xenergy Switchgear
The system's modular design allows for a wide range of intelligent combinations. That means you save time, money and space. And because you can also rely on Eaton's excellent reputation for safety, you can implement individual projects in functional buildings or office and industrial buildings simply, quickly and flexibly.
Fully tested systems: Components + Built-in systems + Enclosures + Tools/Service
Delivery as flat pack or as pre-assembled enclosure.
Specially designed for the building infrastructure up to 5000 A.

Products Features
xEnergy switchboard systems up to 5000 A – product features
Enclosures for side-by-side and stand-alone cabinets
Degree of protection IP31 or IP55
Main busbars up to 5000 A
2 Main busbar systems are possible in each section
Clear separations into functional areas from form 1to form 4 to provide even better protection for people and equipment
Widths of 425, 600, 800, 850, 1000, 1100, 1200and 1350 mm
Height 2000 mm
Color RAL 7035 (other colors upon request)
Network types TN-C, TN-C-S, TN-S, TT, IT
Type-tested switchgear assembliesin accordance with IEC/EN 61439
Optimized for 3 and 4 pole switchgear from Eaton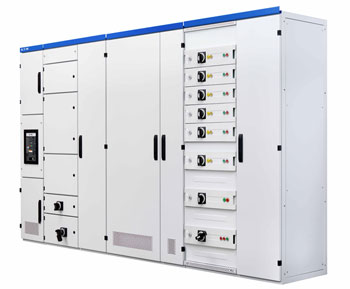 XP - Power sections
Incoming supplies, outgoers and couplings up to 5000 A
Cable connection from the top and bottom
Busbar positions rear-mounted - bottom/top mounted or running under the top panel
Section height 2000 mm / section depth 400/600/800/1000 (1000 = 800+200) mm
Internal separations up to Form 4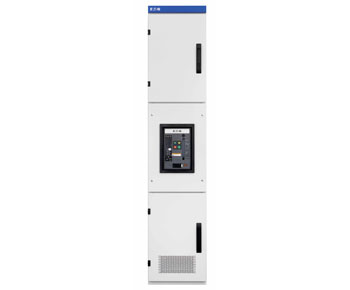 XF – Fixed
Power outgoers with circuit breakers and fuse switch disconnectors up to 630 A
Individual outgoers, such as control gear, motor starters, small power outgoers etc.
For busbar positions at the rear - top/bottom or running under the top panel
Section height 2000 mm / section depth 600/800 mm
Internal separation up to form 4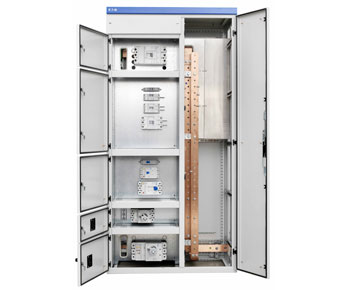 XR – Removable
Power outgoers with circuit breakers and strip type switch-disconnector-fuse, up to 630 A
Empty modules for individual applications
Plug-in modules and strip type switch-disconnector-fuse can be replaced under live-line working conditions
Internal separation up to form 4
Easy maintenance and reduced down times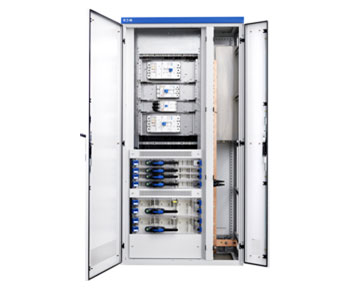 XW – Outgoing sections - withdrawable
Widths of 1000/1200 mm
Section depths of 600/800/1000 mm
3 or 4 poles
Rated current of dropper bars In=1000 or 2000 A / 3 or 4 poles
Max. short-circuit current ICW=80 kA
IP31/55
Shelf-boards can be mounted at individual heights, depending on the size of the modules
Max. height of dropper bar available to accommodate equipment = 1875 mm
Cable connection area, fully sealed off from the switchgear area, main busbar area and dropper bar area
Dropper bar at the front fully sealed off thanks to self-closing shutters
Drawers available:

Power outgoers up to 630 A
Direct starters from 0.06-132 kW
Reverse starters from 0.06-132 kW
Star-triangle starters from 5.5-110 kW
Outgoers from 132 to 250 kW are executed as fixed design solutions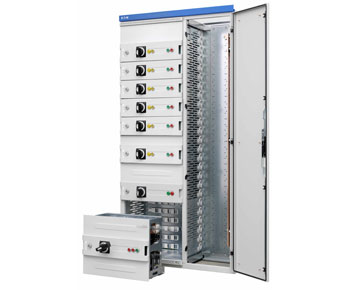 XG – General – Empty sections for individual mounting units
Power factor corrections
Fitting systems for sub-distribution with devices for modular installation
Control technology with SASY 60i and xStart - suitable for installation of mounting plates as high as the section, or of split ones
Individual mounting units fixed on mounting plates
Section height 2000 mm
Section depths of 400/600/800 mm
Section widths of 425/600/800/850/1000/1100/1200/1350 mm
IP31/55